Super Bowl 50 was a monumental event on social.
With around 10 million related mentions on Sunday alone, we took a look at the social data surrounding the event and condensed it into four key charts for your perusal.
---
Big mentions for big brands
As the hottest event of the year for advertisers, it's no doubt that social went crazy for the biggest advertising brands.
Doritos was the winner on mention volumes, raking in over 89k mentions while the game was live and finishing well ahead of its rivals.
Budweiser, Pepsi and Pokémon followed, each attracting more than 20k mentions.
While Doritos had an impressive spike, Pokémon was perhaps the most surprising with a peak of 7k mentions in a single minute at one point.
---
Hashtag hype
At the game's end, the pure volume winner, by a mile, was #PuppyMonkeyBaby, registering over 65k mentions during the game's telecast.
It was followed by #AvosInSpace with over 16,000 mentions and #CrashTheSuperBowl with nearly 14k mentions.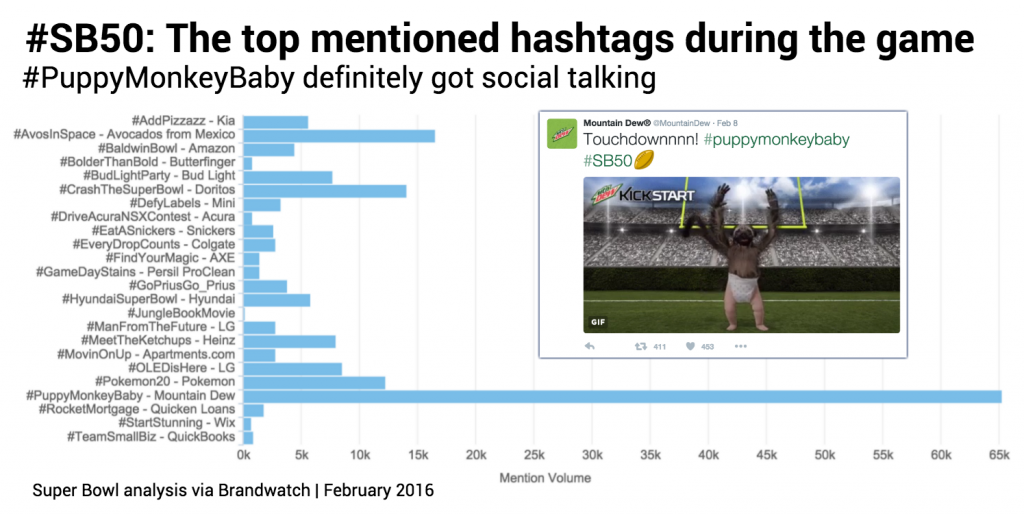 While the fairly creepy looking Puppy Monkey Baby drew a lot of mentions, it was also one of only three brands to draw a negative sentiment ratio of over 50%. Probably because it scared people.
---
Musical mention battle
Beyoncé just about won on the mention front between herself, Coldplay and Lady Gaga.
Before the show Lady Gaga was raking in the hype, but the data suggests she may not have lived up to expectations.
---
Global scale
Despite time zone clashes for those outside of the US, Superbowl 50's worldwide appeal was striking on social.
---
It was a huge year for the Super Bowl in terms of social engagement. 
Check out our Super Bowl 50 live data viz to see the big moments as they happened.
---
[bw_banner_cta type=9][/bw_banner_cta]